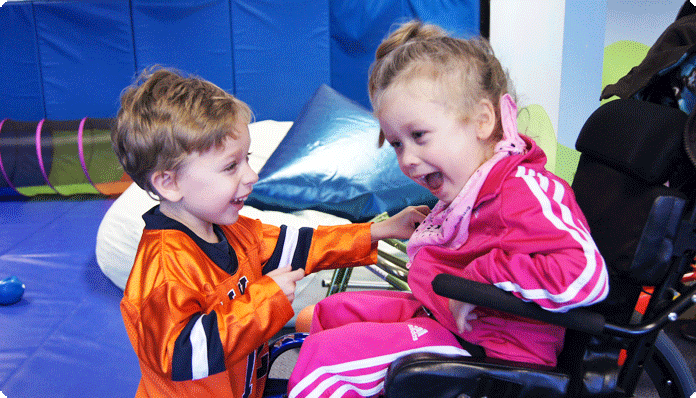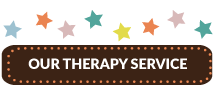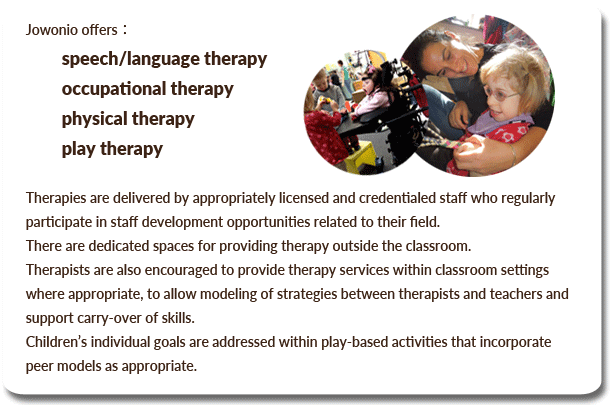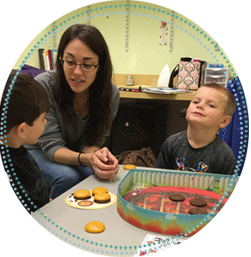 Pooh Corner
A series of small, quiet rooms where speech language pathologists can work with children individually and in small groups.
Therapists use child-friendly, play-based activities to improve children's
Receptive language
Expressive language
Speech intelligibility
Understanding of pragmatics, or the social rules of language use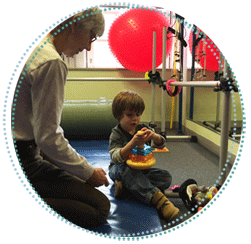 Secret Garden
A space for individual and small group occupational and physical therapy sessions, and for children's sensory breaks.
Therapists use child friendly, play-based activities to improve children's
Strength and endurance
Balance and coordination
Motor learning and problem-solving
Sensory integration skills
ENRICH
An acronym for Educational Network and Resources for Inclusion in Community and Home. Serves a limited number of children on an itinerant basis, in home or community settings such as daycare centers or nursery schools.
Collaboration
Jowonio has contracts with two excellent area nursery schools to work in collaboration with their staff. We serve six three and four year olds at each site who are identified as a "preschooler with a disability". Jowonio provides a special education teacher and assistant, as well as speech, occupational therapy, physical therapy, and 1:1 aides as identified on the children's IEPs.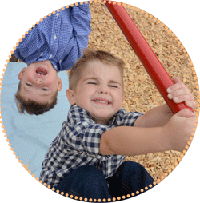 Bellevue Heights Nursery School (BHNS)
Address: 2112 South Geddes Street, Syracuse NY, 13207
Preschoolers with special needs enrolled through the Intake Coordinator at Jowonio (315-445-4010).
Typically developing children enrolled through the Bellevue Director (315-475-2344)
Evaluation Team
Jowonio is an approved site for preschool evaluations.
We use a multi-disciplinary, play-based approach.
The team includes a psychologist, special education teacher, speech therapist, occupational therapist, and/or physical therapist as needed.
Parent input is a welcomed and appreciated part of the evaluation process.
 Assistive Technology Team
This team includes an occupational therapist, speech-language pathologist,and special education teacher.
They work to triage, assess, and support children who need additional assistance in accessing means for functional mobility, communication, and/or participation in the classroom
CURRICULUM GUIDE

Our curriculum guide is divided into the two main age levels. Please click the buttons to find out more details for each curriculum!